We are hiring!
Read below for more info!
Do you think you have what it takes to become an Event Moderator at MansionPlay?

Here at MansionPlay, we are looking for a passionate and motivated Event Moderator to join our team!



About Us:
The aim of MansionPlay is to create a serene environment where you can feel secure, respected, enjoy yourself, and form friendships. MansionPlay is an ongoing and lifelong project that's constantly enhanced and powered by passion and team spirit.
We take pride in promoting a positive and engaging environment where players can connect, and have fun. As we continue to grow as a community, we have decided that we are to look for a dynamic and enthusiastic individual to join our team as an Event Moderator!

Please read the roles and responsibilites of Event Moderator before applying!

Event Management:
Plan, organize, and execute engaging in-game events.
Take the lead in organizing fun stuff – don't just wait for ideas from others!
Promote a lively and active events community by encouraging participation in events via in client
Foster a lively and active gaming community by encouraging participation in client AND our Discord server.
User Engagement:
Actively welcome and engage with new users to ensure a positive experience.
Promote a sense of community by interacting with players regularly.
Enourage communication within the community in client AND our Discord server.
Demonstrate kindness and friendliness to set a positive example for the community.
Promotion:
Collaborate with other team members to promote events and activities.
Actively participate in Discord channels, promoting MansionPlay and encouraging community involvement.
Daily Activity:
Maintain an active and visible presence within the community on a daily basis.
Monitor and respond to community discussions, inquiries, and feedback whenever possible.
Actively participate in Discord channels, promoting MansionPlay and encouraging community involvement.
Client Promotion:
Act as an ambassador for MansionPlay, promoting the community in a positive light.
Explore creative ways to showcase the unique features of MansionPlay to attract new users.
Collaborate with the marketing team to implement promotional strategies whenever needed.
Additional Responsibilities:
Ability to create engaging and informative articles related to MansionPlay events and updates, e.g., GOTW, OOTW, ROTW, etc.
At a last resort, a member of the management team may ask for help fixing furni within the client (we provide a guide and support for this if necessary).
Requirements:
Know your way around creating event rooms and have a solid grasp of hosting various games and events. (Wired furni knowledge is a plus).
Proactive and creative mindset with the ability to initiate and organize events.
Strong communication and interpersonal skills to engage with players effectively.
Active presence on Discord and in client.
Willingness to actively promote MansionPlay and contribute to its growth.
Ability to work collaboratively with the other team members.
Prior experience in a similar role or within a retro.
How to Apply:
If you believe you can be as passionate as we are for MansionPlay, with the drive to enhance community engagement and promote a positive atmosphere, we invite you to apply.
Please submit your application with examples of your experience here.

Thank you, and we hope to hear from you.

MansionPlay Team and Staff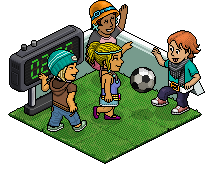 Latest articles
The latest facts within MansionPlay!